Advancements in Life Sciences, volume 6, issue 3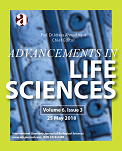 Published online: 25 May 2019
ISSN 2310-5380
IN THIS ISSUE
Review Article
---
An Overview of Genome-Wide Association Study for Genetics Novices: A Review
Hafsa Tahir, Aniqa Ejaz, Tania Mahmood, Sidra Riaz, Rashid Saif, pages 88-96
Read Abstract
SNP chip-based genome-wide association studies (GWAS) is an inspiring and fast scanning method for mapping variations within the genome and associating them with specific diseases/trait. This association information has enhanced the chances of improvement in disease diagnosis, understanding the causative variants locations and associated gene hunting strategies. GWAS have laid foundation of an era in which both personalized medicine and pharmacogenomics would be reinforced along with better understanding of functional genomics aspects of modern molecular genetics. Since the advent of first GWAS in 2002, thousands of genome wide association studies have been published which have proven GWAS a successful methodology in identifying significant variants in disease/trait association but application of GWAS outcomes to clinical settings demands more evaluation for validity. Here, we have divided the GWAS approach into various aspects including history, development, analysis strategies, approaches, current scenario and different applications with brief description of major methodologies being used in scientific community to get associated SNP hits and narrowing down the search by functional variant filtration involved in subject disease, traits or physiological condition.
Short Communication
---
Comparison of haemoglobin level between high altitude people and low altitude people
Hafiza Saima Pracha, Mumtaz Hassan, Shahid Nazir, Muhammad Farha Khan, Baber Ali, Iram Amir, pages 97-99
Read Abstract
Background: Hemoglobin is the iron holding and oxygen carrying protein found inside the red blood cells. Studies have been done on Hb level variations in gender, race and region but no comparative study on different altitude effects in Pakistan is reported. Comparison of Hemoglobin level between people living at high altitude and low altitude was done in this study. Samples from district Skardu Gilgit-Baltistan, Pakistan were used as high-altitude samples and samples from district Lahore, Pakistan were utilized as low altitude samples. Samples were obtained from those people who don't have any haemoglobinopathies. Methods: 50 blood samples were collected for this study; 25 individuals were from low altitude level and 25 of high-altitude level. Estimation of hemoglobin concentration was done by Cyanmethemoglobin method to compare the individuals HB from low altitude with high altitude. Results: All the blood samples were properly analyzed, and the results extracted from the samples, living at low altitude were compared with those living at high altitude. Mean and standard deviation values were calculated, and they found to be different for both populations, people at high altitude and the people living at low altitude. 25 residents of high altitude showed following results of hemoglobin: mean=15.0 and SD=0.632. On the other hand, 25 individuals of low altitude revealed these results: mean=14.53 and SD=0.633. Conclusion: There was a significant difference in Hb level in blood at high altitude (7500 feet) and low altitude (711 feet from sea level) P=0.004.



Protocol optimization for efficient in vitro micro-propagation of Stevia rebaudiana Bertoni
Muhammad Aslam Javed, Imran Habib, Muhammad Waqas Jamil, Muhammad Jamshaid Anwar, Shahid Nazir, Sajid-ur-Rahman, Muhammad Zaffar Iqbal, pages 100-105
Read Abstract
Background: Stevia rebaudiana Bertoni is one of the most amazing herb that is an abundant source of diterpene glycoside a non-caloric sweetener. In recent years alongside its utilization in herbal and folk medicine, commercial exploitation of this herb for weight control and anti-diabetic treatment has started. Methods: In present study healthy nodal segments of Stevia rebaudiana Bertoni were used as explants for optimization of in vitro micro-propagation and regeneration protocol for rapid, fast and efficient multiplication under in-vitro conditions. For shoot proliferation and rooting various concentrations cytokinins NAA (Naphthalene acetic acid), BAP (Benzyl amino purine), IAA (Indole acetic acid) and kinetin (Kn) were employed. Results: Shoots without roots were regenerated from nodal segments via auxiliary shoot induction. The production of multiple shoots from nodal portion was maximum on MS medium complemented with 0.5 mg/L of BAP and 1.5 mg/L of Kn. Maximum rooting was recorded on MS medium supplemented with 0.25 mg/L NAA and 1.0 mg/L of IAA. Successful hardening was achieved under controlled growth room conditions followed by transfer to glass house and open field. Conclusion: Standardization of explant source and culturing media for multiplication of shoot resulted in mass proliferation of homogenous and healthy plantlets of Stevia clones under local conditions.


A short report on epidemiological investigation of dog bite cases in association with temperature rise as a part of climate change
Touseef Ahmed, Muhammad Waqas Asghar, Saba Khalid, Muhammad Hassan Mushtaq, pages 106-109
Read Abstract
Background: Rabies is a neglected disease that claims more than 5000 human's deaths in Pakistan that account for 10% global load of rabies related deaths annually. Dogs are major carriers for this zoonotic ailment in the country. Global climatic changes, especially rise in temperature, is altering ecological niche of reservoir of infectious diseases. Pakistan is among those countries which are most effected by the temperature rise. This rise has a relation in increase in dog bites and subsequent rabies cases to develop. Methods: Passive data of dog bite cases is acquired from Institute of Public health and were examined for 12 consecutive months. Data analyzed by SPSS software for frequency distribution of dog bite cases in comparison with different months of the year. Results: Data analysis indicate a positive correlation between temperature rise and dog bites rates. This study found prevalence of 2.56% dog bite cases and seasonality in dog bites. Conclusion: These finding recommend further study to investigate other factors involved in increase of dog bite cases in high temperature months of years. In order to develop understanding the reasons of subsequent rabies cases associated with dog bites. Bats are the most sensitive mammals to high temperature and they migrate and even dye due to hike in temperature, which later may become source of various zoonotic diseases including rabies. Carnivorous bats are believed to be primary reservoir for rabies worldwide but Pakistan do not have this bat specie (Desmodus rotundus). However, increase in dog bite and rabies cases with every year suggest to monitor Indian fruit bat (Pteropus giganteus) which are prevalent in Pakistan. Ecological Niche Model (ENM) should be used for bats to determine their role in rabies ecology in Pakistan.


Evaluation of antimicrobial activity of a lichen used as a spice (Platismatia glauca)
Emad M. Abdallah, pages 110-115
Read Abstract
Background: Lichen is a complex symbiotic relationship arose from algae or cyanobacteria that live together with some fungal species. Some of them are edible and consumed as spice such asPlatismatia glauca. The current study aimed to evaluate it's the antimicrobial properties of the methanolic extract of lichen thalli of P. glauca against some referenced bacterial and yeast strains. Methods: Disc diffusion test, minimum inhibitory (MIC) and minimum bactericidal (MBC) or minimum fungicidal (MFC) tests were carried out to evaluate the antimicrobial activity of lichen. Results: All tested microorganisms exhibited varying degrees of susceptibility. Among the tested strains, the most susceptible bacterium -using the disc diffusion assay- was Staphylococcus saprophyticus (18.5±1.0 mm), followed by Staphylococcus aureus (14.5±0.5 mm), Shigella flexneri(12.5±1.5 mm), Streptococcus pneumoniae (12.0±1.0 mm), Proteus vulgaris (11.5±0.5 mm),Salmonella Typhimurium (11.5±0.5 mm), Bacillus cereus (11.0±1.0 mm) and Escherichia coli(11.0±0.0 mm), respectively. It also showed high antifungal activity against Candida albicans(22.5±0.5 mm). The MIC, MBC and MFC were promising, which were as low as 3.125 to 12.5 mg/ml for MIC and 6.25 to 12.5 mg/ml for MBC and MFC. Conclusion: From the obtained results, it is concluded that the lichen thalli of Platismatia glaucapossesses a remarkable antimicrobial activity and it may be considered as a source of potential antimicrobial agents.


Full Length Research Articles
---
Effect of Spirulina supplementation and aerobic exercise on the level of cortisol and body composition in women with type 2 diabetes
Mohsen Akbarpour, Zahra Samari Ebrahimzadeh, pages 116-124
Read Abstract
Background: Changes in the hypothalamus-pituitary-adrenal axis and obesity play an important role in the development of diabetes. Aim of this study was to investigate the effect of spirulina supplementation and aerobic exercise on serum cortisol level and body composition in women with high BMI type 2 diabetes. Methods: In this semi-experimental study, 28 women with type 2 diabetes and overweight with mean age of 48.4 ±7 and body mass index 29.7±3.33, were randomly assigned to aerobic training groups + spirulina, aerobic training + placebo, spirulina and placebo. The aerobic training program included six weeks and running with a severity of 60-72% of maximum heart rate. The recipient groups received three 500 mg capsules of spirulina daily for six weeks before each meal. Blood samples were collected for pre-test and post-test stages in order to study the variables studied in fasting conditions. Data analysis was performed using one-way ANOVA and t-test with a significant level (p≤0.05) and using SPSS software. Results: Serum levels of cortisol in the aerobic- Spirulina group (p=0.02), aerobic group (p=0.00), and spirulina group (p=0.02) showed a significant decrease from the pre-test to post-test. Also, there was a significant difference in the level of cortisol between aerobic-spirulina group and aerobic group compared to control group (P≤0.05). However, there was no difference between the groups (fat percentage, BMI, WHR) in body composition indicators (P>0.05). Conclusion: Results of Cortisol Measurement and body composition showed that aerobic training along with supplementation with spirulina has a positive effect on the cortisol reduction in women with type 2 diabetes and can therefore reduce stress and improve the health of patients with type 2 diabetes and overweight.



First record of Cantharellus minor from Vietnam with identification support from a combination of nrLSU and nrSSU phylogenetic analysis
Thuan Duc Lao, Nghia Trong K, Tai Van Ngo, Nguyen Binh Truong, Luyen Tien Vu, Thuy Ai Huyen Le, pages 125-130
Read Abstract
Background: A previously identified sample XC02, which was collected from a pine forest (Pinus kesiya Royle ex Gordon), in Xuan Tho Commune, Da Lat, Lam Dong Province, Vietnam, was identified as Cantharellus minor based on morphology and nrLSU phylogeny analysis. Sequence analysis of multiple genes are becoming more and more common for phylogenetic analysis of mushrooms. Method: Total DNA was isolated from sample XC02. The primer NS1, NS4 were applied to amplify the target gene the nuclear ribosomal small subunit DNA (nrSSU). For phylogenetic analysis, individual and concatenated datasets (nrSSU and nrLSU-nrSSU) were constructed. Phylogenetic tree was constructed with MEGA 6.0 with a 1000 replicate bootstrap based on the neighbor joining, maximum likelihood, maximum parsimony method. Results: A concatenated dataset containing a total of 14 sequences from Cantharellus, Craterellus (Cantharellaceae, Canthraellales) and Hydnum (Hydnaceae, Cantharellales) were constructed. For the specimen XC02, the phylogenies based on the first, second, and third datasets (nrLSU, nrSSU, and nrLSU-nrSSU) and the morphological analysis, reported in our previous study, strongly confirmed the identity of XC02 as Cantharellus minor. Conclusion: The combination between the morphological analysis and phylogenetic analysis is confirmed as the best approach for the identification of Cantharellus and other mushroom species that we collected in the Central Highlands, Vietnam.


Trackable CEMB-Klean Cotton Transgenic Technology: Affordable Climate Neutral Agri-biotech Industrialization for Developing Countries
Zahida Qamar, Muhammad Tariq, Tahir Rehman, Muhammad Shahzad Iqbal, Muhammad Bilal Sarwar, Muhammad Nauman Sharif, Zohaib Hassan, Ayesha Ahmad, Aiman Zahra, Ayesha Latif, Bushra Rashid, Mohsin Abbas Zaidi, Bushra Tabassum, Sameera Hassan, Allah Baksh, Momina Javaid, Sania Akram, Saira Azam, Farah Naz, Shafique Ahmed, Kamran Shahzad Bajwa, Mudassar Fareed Awan, Naila Shahid, Arfan Ali, Saman Riaz, Bisma Bashir, Kanza Sadiq, Qurat ul Ain Kokab, Iqra Yousaf, Abdul Munim Farooq, Muhammad Aslam Javed, Zia Ur Rahman, Muhammad Zafar Saleem, Aneela Yasmin, Muhammad Umar Bhatti, Usman Arif, Khurram Bashir, Arshad Jamal, Shahid Javed Butt, Asif Arif, Irshad Ahmad, Abdul Qayyum Rao, Muhammad Saleem Haider, Tassawar Hussain Malik, Idrees Ahmad Nasir, pages 131-138
Read Abstract
Background:
Transgenic technology reflects the incorporation of novel useful traits in crop plants like cotton for economic benefits by overcoming the problems including insects' pests and weeds in special. The present study is the success story of the continuous effort of CEMB team started back in the 1990s.
Methods:
This study includes characterization of a large number of
Bacillus thuringiensis
(Bt) strains taken from local soil and subjected to direct transformation of isolated BT genes into local cotton cultivars. Protocols for transformation into cotton plants were optimized and validated by the development of double gene codon optimized (Cry1Ac and Cry2A) transgenic cotton varieties.
Results:
The resulting GMOs in the form of CEMB-33, CA-12, CEMB-66 have been approved by Punjab Seed Council in 2013 and 2016 respectively. Double
Bt
and weedicide resistant cotton harboring CEMB-Modified and codon optimized cp4EPSPS (GTGene). These varieties can tolerate glyphosate spray @ 1900ml per acre without the appearance of necrotic spots/shedding and complete removal of all surrounding weeds in the cotton field is a significant advance to boost cotton production without spending much on insecticides and herbicides.
Conclusion:
In the current report, two unique sets of primers which amplify 1.1 Kb for CEMB-double Bt genes and 660 bp product for CEMB-Modified cp4EPSPS (GTGene) were tested. CEMB cotton variety CKC-01 is specially designed as low cost and easy to use by local farmer's technology has the potential to revolutionize the cotton growing culture of the country.