Advancements in Life Sciences, volume 7, issue 2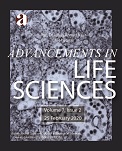 Published online: 25 February 2020
ISSN 2310-5380
IN THIS ISSUE
Full Length Research Articles
---
Single nucleotide polymorphism and phylogenetic analysis of the exon 2 of leptin gene in Lohi sheep
Ali Haider Saleem, Ahmad Ali, Akhtar Rasool Asif, Asad Ali, Hamid Mustafa, Dilshad Rashid, Mujahid Zafar, Muhammad Awais, Hafiz Ishfaq Ahmad, Zulqarnain Baqar, pages 62-65
Read Abstract
Background:
Leptin hormone, encoded by leptin (LEP) gene is involved in many biological and physiological processes in the body. Polymorphism in LEP gene has been observed and correlated with a variety of reproductive and productive traits in several sheep breeds worldwide, but its role has not been much studied in local sheep breeds of Pakistan. The present study was conducted to analyze polymorphism in LEP gene in Lohi breed of sheep.
Methods: Subsequent to statistical analysis (generalized linear model), 18 animals were selected randomly from the flock for blood samples collection followed by DNA extraction, amplification using PCR prior to sequencing. The amplified product of exon 2 and partial intron 2 regions of LEP gene was 268bp.
Results: Molecular analysis showed a heterozygous condition i.e. C>Y at position 15 and 18 in exon 2. The data on average daily weight gain (ADG) from birthday to 90 days were used for association study, while environmental effects were minimized by means of generalized linear model. Association of polymorphisms in LEP gene with ADG did not yield any significant results.
Conclusion: In conclusion, analysis of LEP gene sequence verified the existence of genetic changes in Lohi sheep. Further investigations are needed to find variations that might be linked with traits of economic importance for upcoming breeding program sand marker-assisted selection.


In vivo investigation of interactions between replisome components in Escherichia coli: An expanded model for the processivity switch
Atif A. Patoli, Bushra B. Patoli, pages 66-71
Read Abstract
Background:
Protein interactions within the replisome (a highly coordinated protein complex) are crucial to maintain temporal and spatial regulation for high fidelity DNA synthesis in
Escherichia coli
(
E. coli
). A key component of these interactions is the processivity switch, ensuring smooth transition of the replicative DNA polymerase III (Pol III) between Okazaki fragments on the lagging strand. Multiple interaction studies between replisome components have been performed to indicate the essential roles of Pol III (DnaE), β-clamp, DnaB helicase, DNA and the
t
(DnaX) subunit for this switch.
Methods: Known interacting regions of both DnaE and various truncated versions of t were chosen for co-expression in E. coli. Differences in the growth pattern of cells co-expressing various truncated versions of DnaX and DnaE, on liquid and solid media were subsequently analyzed. Based on in vivo analyses to explore the interactions between these components, an expanded model for the processivity switch is presented here.
Results: The analyses suggest that residues 481-643 of t are sufficient to establish a functional interaction with the DnaB helicase and DnaE during replication, while residues 461-480 of t interact with the C-terminal tail of DnaE to disengage Pol III from the β-clamp during processivity switching. We also propose that residues 430-460 of t are involved in sensing the DNA structure required for the processivity switch.
Conclusion: These observations expand the current understanding of processivity switching and help dissect the regions of t utilized for binding to different replisome components such as DnaB helicase, polymerase and DNA.


Toxicopathological effects of endosulfan in female Japanese Quails (Coturnix japonica)
Tahir Hussain, Muhammad Kashif Saleemi, Muhammad Zargham Khan, Ahrar Khan, Rao Zahid Abbas, Muhammad Qamar Bilal, Farrah Deeba, Hamid Irshad, Zahida Fatima, Farhan Afzal, Umar Farooq, Muhammad Moazam Jalees, pages 72-78
Read Abstract
Background:
The current study was planned to investigate the toxico-pathological effects of endosulfan in female Japanese quails.
Methods: A total of 120 quail of 4 weeks old were divided into six equal groups (A-F) and administered endosulfan in feed at dose rate of 0, 5, 25, 50, 100, and 500 mg/kg feed, respectively for 90 days. Parameters studied included clinical signs, feed intake, body weight and mortality. Hematology, serum biochemistry, hatchability and fertility were also determined. Gross and microscopic changes on different organs were recorded.
Results: The quails of the group B did not show any clinical signs and had significantly lower values of feed intake, testes relative weight and leukocyte number than those of the control group A. The quails of group C and D had mild depression while those of the group E and F showed nervous excitation following ingestion of endosulfan. There was a dose related delay in onset of crowing, appearance of foamy material in the droppings. The feed intake, erythrocyte and leukocyte counts, hematocrit values, and serum total proteins of endosulfan fed quails were significantly (p < 0.05) lower than that of the group A. The total egg production in groups A, B and C was significantly higher from group D, E and F. The hatchability in group A and B was significantly higher from groups C, D, E and F. The difference of dead in shell % and early dead among different groups was nonsignificant. Infertile egg percentage was significantly higher in group E compared with all other groups except group F. The necrotic changes were observed in all parts of oviduct in high dose groups, similarly necrotic changes and vacuolar degeneration was observed in hepatic parenchyma in high dose groups D-F.
Conclusion: It may be concluded that endosulfan leads to dose dependent changes in the quails.


Evaluation of isolated Lactobacillus strains as Probiotics in yogurt preparation
Umaima Rubbani, Atia Iqbal, pages 79-85
Read Abstract
Background:
Probiotics are live organisms that when ingested in adequate amount are believed to provide health benefits to the host. Probiotics are when combined with prebiotics are termed as synbiotics and in that case prebiotics enables the probiotic organisms to survive better in the host. The main objective of this study is to investigate
Lactobacillus
strains isolated from dairy products with significant probiotic potential and their utilization in yogurt preparation.
Methods: Eleven (11) bacterial strains were identified as Lactobacillus by following Bergey's manual scheme. Antibacterial activity was checked by agar well diffusion method. Their ability to grow at different bile salt concentration, pH concentration and in the presence of pepsin enzyme was checked under in vitro condition. Finally, they potential strains were evaluated as probiotic starter in yogurt preparation.
Results: Out of total strains isolated, 52% strains were considered as Lactobacillus. Half of the strains (50%) showed antibacterial activity against selected pathogens and the best zone was formed by S4BM2 (15mm) against Salmonella typhi. All the isolated strains had the ability to grow in the presence of 0.2% bile salt concentration; at pH 3, pH5 and in the presence of pepsin enzyme. The efficacy of Lactobacilli strains as starter culture in yogurt was checked and found that yogurt processed with combination of S2Y2 with apple pieces showed significant results as compared to uninoculated yogurt.
Conclusion: It was concluded that strain i.e. S2Y2 can further be used in different dairy industries for yogurt processing to improve the quality of yogurt.


Epidemiology, incidence and mortality of Nasopharynx Cancer in Southeast Asia: an update report
Thuan Duc Lao, Thuy Ai Huyen Le, pages 86-90
Read Abstract
Background:
Nasopharyngeal cancer, with a distinct geographical and racial distribution, is the common neck and head cancer. Knowledge about the ecological factors including incidence, mortality, and so on, is important to find out the best way for its prevention in future. The aim of current study was to find out the incidence(-ASR), mortality(-ASR) of nasopharyngeal cancer and its correlation between those factors with HDI as well as its components in Southeast Asian countries in 2018.
Methods: The data of the incidence(-ASR), mortality(-ASR), Human development index (HDI) were extracted from the GLOBOCAN project and Human Development Reports database. The relationships were evaluated by using Pearson Correlation Coefficient method.
Results: In Southeast Asian region, incidence of 34,681, and mortality of 22,231 were recorded. The high incidence and mortality were related to medium human development countries. The significant positive correlations were observed between HDI with incidence-ASR (r = 6.25, p = 0.04) and mortality-ASR (r = 0.38, p = 0.26). No significant correlations were found between HDI component with incidence-ASR and mortality-ASR, except for the relationship between incidence-ASR and GNI/capita (r = 0.71, p = 0.02).
Conclusion: The nasopharyngeal cancer is native to Asian region, includes Southeast Asian countries. The highest incidence and mortality were recorded in medium HDI countries.



Male predominant association with Apolipoprotein B mRNA-editing enzyme, catalytic polypeptide-like 3G variants (rs6001417, rs35228531, rs8177832) predict protection against HIV-1 infection
Qaisar Ali, Arshad Jamal, Sajjad Ullah, Ahmed Bilal Waqar, pages 91-97
Read Abstract
Background:
Human immunodeficiency virus (HIV) infection, it is a global health concern mainly lead to acquired immune deficiency syndrome (AIDS). There are numerous limitations of this infection particularly in the form of host factors which may limit and interfere HIV-1 replication. The most notable host factors which hinder HIV-1 DNA propagation is the apolipoprotein B mRNA-editing enzyme, catalytic polypeptide- like 3G (APOBEC3G). Any genetic polymorphism of this substantial host factor may impact the host susceptibility pattern to HIV viral infection in different part of the world. The aim of this study to examine genetic variants (rs6001417, rs35228531, rs8177832) effecting HIV-1 infection.
Method: Three variants of APOBEC3G gene polymorphism were genotyped while using RT-PCR method. Frequency distribution of these genotypes was evaluated in both the HIV-1 and healthy group.
Results: The rs6001417 CG (p = 0.03) and rs35228531 CT (p = 0.01) genotypes were found as protective elements, while rs35228531 TT (p = 0.02) and rs8177832 AA (p = 0.03) genotypes had shown susceptibility against the HIV-1 infection. Our data suggest, rs35228531 CT (p = 0.003) and rs8177832 AA (P = <0.001) genotypes have predominant incidences in HIV-1 male population than healthy control.
Conclusion: We predict rs6001417 CG, rs35228531 CT as protective and rs35228531 TT, rs8177832 AA genotypes as a predisposing tool, against the HIV-1 infection in a section of Pakistani population. In addition, male gender was found predominantly high in both protective genotype rs35228531 CT (p = 0.003) and predisposing genotype rs8177832 AA (p = <0.001). The predominant contribution may help the patient to be predict about the status of HIV infection, however, extra efforts are required to study larger cohort of patients to better elucidate the association.



Amino acid consumption and secretion patterns of Staphylococcus aureus following growth in sub-optimal environmental conditions
Mousa M. Alreshidi, pages 98-105
Read Abstract
Background:
Staphylococcus aureus
is highly associated with nosocomial infections due to its ability to adapt to wide range of environmental parameters. The aim of this study was to evaluate amino acids consumption and secretion by
S. aureus
at mid-exponential and stationary phases under growth in sub-optimal conditions, including changes in pH, temperature and osmolality.
Methods: The consumption and secretion of amino acids were determined by subtracting the original concentrations of the free amino acids in the media from those estimated at both mid-exponential and stationary phases of growth.
Results: The analysis revealed that the consumption and secretion profiles were substantially different between cells grown under optimal control conditions, when compared with those exposed to sub-optimal conditions. The analyses of the supernatants harvested at mid-exponential phase revealed that the total consumption of amino acids was increased by 1.2 and 1.7 times by cells grown at either pH 6 or 8 and 35°C with additional of 5 % NaCl, respectively. However, the final levels of amino acids consumed at stationary phase were significantly reduced in the cells grown in sub-optimal conditions compared with bacteria cells grown under optimal conditions.
Conclusion: It was evident that various environmental conditions led to differential profiles of amino acid consumption and secretion.


Review Article
---
The genetics associated with Primary Congenital Glaucoma
Ali Imran, Muhammad Umer Khan, Umer Nasir, Qasim Qayyum, Rubab Hector, Raima Rehman, Atif Amin Baig, pages 106-112
Read Abstract
Glaucoma is a progressive optic neuropathy; increased intraocular pressure (IOP) is a modifiable risk factor for primary congenital glaucoma (PCG). Increase IOP causes retinal and optic nerve compression and leads to gradual and irreversible loss of eyesight if left untreated. It is the second most leading cause of blindness. PCG mainly affects children up to the age of three years, and symptoms include epiphora, photalgia, swollen eyes, opaque corneas, blepharospasm, rupture in the retina and ocular nerve damage due to IOP. Early detection, management, and treatment are the keys to preventing vision loss from glaucoma. Many mutations have been discovered in Cytochrome P450 1B1 (CYP1B1) gene to be responsible for causing PCG, and there are still a lot of mutations to be discovered. In this review, we will discuss the genetic aspects of PCG and the most frequent mutations responsible for PCG in Pakistani children. PCG can be handled by decreasing IOP either by medication or by surgery. Genetic counselling plays a significant role in the establishment of proper management of PCG.