Our August issue is just published. This time we have featured multidisciplinary 8 articles of authors from 4 different countries covering; Therapeutic potential of stem cells; Evaluation of Phosphoenolpyruvate carboxylase encoding transcripts in Chickpea; Antibacterial activity of leaf extract of grapes; First step with R for life sciences; Effect of camel milk lactoferrin on hepatic toxicity in Sprague Dawley rats; Detection of human salivary amylase level deposited on fruits; Effects of baker's yeast on poultry production; and an assessment of social, economic and managemental factors affecting commercial production of layers. Enjoy reading!
Advancements in Life Sciences, volume 6, issue 4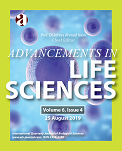 Published online: 25 August 2019
ISSN 2310-5380
IN THIS ISSUE
Full Length Research Articles
---
Therapeutic potential of stem cells derived factor-1 alpha (SDF-1α) for skin burn injuries
Nadia Wajid, Azib Ali, Fatima Ali, Noreen Latief, Aamer Qazi, pages 139-146
Read Abstract
Background: Stem cells derived factor-1 alpha (SDF-1α) enhances the migration of bone marrow cells towards wound hence improve the healing process. The present study focuses on the therapeutic potential of SDF-1α and bone marrow derived cells from rats after SDF-1α treatment for skin burn. Methods: SD rats were given thermal skin burn. Animals were divided into three groups i.e. SDF (S) with subcutaneous SDF-1α treatment after burn, Burn (B) and control (C). After seven days of treatment rats were sacrificed and skin, liver, heart, kidneys and blood were taken for histological and serological analysis. CBC, serum electrolytes, liver functions tests, renal functions tests, lipid profile, blood glucose as well as ELISA for VEGF, CRP and oxidative stress were performed. Cells were extracted from bone marrow and were transplanted in the burnt animals either directly or after culturing (Bone marrow stromal cells; BMSCs). Results: A prominent role of SDF-1α on skin thermal wound healing was observed. Importantly the treatment has no significant impact on vital organs like liver, heart and kidney as well as physiological parameters. Lowered inflammation and enhanced angiogenesis was observed by ELISA for CRP and VEGF. BMSCs from SDF group showed higher growth (viability and proliferation), lowered cell death (LDH release), high angiogenesis (VEGF) and decreased oxidative stress. These BMSCs healed the burnt skin better than whole bone marrow of the same group after transplantation.Conclusion: It may be concluded that SDF-1α can be a potential therapeutic agent for thermal skin burns and BMSCs after the treatment get higher growth and healing potential.


Effect of yeast supplementation on production parameters, egg quality characteristics and crude protein digestibility in hens
Rohban Hameed, Muhammad Tahir, Sohail Hassan Khan, Tanveer Ahmad, Javid Iqbal, pages 147-151
Read Abstract
Background: Yeast (Saccharomyces cerevisiae) has a buffering effect in the digestive tract, and proper feed additives in chicken diets can improve the birds' digestive efficiency. The present study planned with aim to investigate the effects of different levels of yeast supplementation on the egg production, egg quality traits and crude protein digestibility in hens. Methods: A total of 84 hens (40 weeks of age) were fed the dietary treatments until 50 weeks of age. The hens were distributed into 4 treatments and 3 replicates with 7 hens per experimental unit. The yeast was incorporated into basal feed with various levels (0, 0.1, 0.15 and 0.2%). The production data was obtained during trial. For determining egg quality characteristics, 30 eggs from each treatment group were used at 14-day interval of the experiment from a 2-day collection of eggs during the week. The excreta from each replicate were collected after every 2 weeks for determining the crude protein digestibility. Results: Maximum egg production and egg mass were attained from the hens provided 0.15% and 0.20% yeast supplementation. The eggshell thickness decreased with supplementation of yeast. Higher yolk weight, albumen weight, Haugh unit and grading values were observed at 0.2% level than other groups. Crude protein digestibility also improved at high levels of yeast supplementation at all ages. Conclusion: This study envisaged that yeast supplementation between 0.15 and 0.20% could be sufficient during 40 to 50 weeks of age, to augment the overall layer performance.


Evolution of Phosphoenolpyruvate carboxylase encoding transcripts in Chickpea (Cicer arietinum L.)
Syed Rehmat Ullah Shah, Muhammad Rashid, Muhammad Abuzar Jaffar, Muhammad Aslam, Hinna Shah, Ghulam Rasool, pages 152-158
Read Abstract
Background: Phosphoenolpyruvate carboxylase (PEPC; EC 4.1.1.31) is an important enzyme encoded by a gene family of at least 2-8 plant type and 1-2 bacterial type genes depending upon genome size or species complexity. This enzyme functions as catalyst for the β-carboxylation of phosphoenolpyruvate (PEP) to form oxaloacetate in cytoplasm. It is involved in carbon fixation and various other plant metabolic pathways. Methods: In this study we characterized the evolutionary perspective of PPC transcripts and their abundance pattern in different plant tissues of chickpea (Cicer arietinum L.). Results: The current study revealed that PEPC enzyme in chickpea is encoded by a gene family of at least 6 transcripts. All active site residues of C3 PEPCs were found in transcripts. Phylogenetic analysis of the amino acid sequences showed two major groups PTPC and BTPC from different ancestral lineages. Divergence of PTPC in two groups and further convergence within species was found in most of the plants while multiple evolutionary divergences was likely to be specific in legumes including chickpea. Conclusion: CaPPC genes are regulated under various abiotic stress. Furthermore, the expression pattern of the identified genes can be helpful to explore plant metabolism of chickpea under abiotic stresses, which can be the next step to explore more into this gene family in chickpea.


Antibacterial activity of leaf extracts of seven grape cultivars against six strains of bacteria
Naila Ali, Humera Afrasiab, Sabahat Anwar, pages 159-164
Read Abstract
Background: Grape (Vitis spp.) is one of the most widely grown fruit crops in the world. It contains large amounts of phenolic compounds which have antimicrobial properties. Many efforts have been done to discover new antimicrobial compounds from various kinds of natural sources to benefit mankind. The current study is aimed to evaluate the antimicrobial properties of the methanolic extract of different cultivars of grapes against six bacterial strains. Methods: In the present study, the antibacterial activity of different concentrations (25, 50 and 100mg/mL) of methanolic leaf extracts of seven cultivars of grape (Red Globe, Autumn Royal, Crimson, Thompson, Sundarkhani, Perlette and King's Ruby) was tested against six strains of bacteria (Proteus sp., Streptococcus viridans, Escherichia coli, Pseudomonas sp., Staphylococcus aureus and Clostridium septicum) using agar well diffusion method. Results: The methanolic leaf extract of all the cultivars showed significant antibacterial activity, suppressing the growth of all the six bacterial strains tested. The inhibition zones against the different bacteria ranged from 12.6 mm to 29.6 mm. The highest zones of inhibition were produced by Proteus sp. (29.6 mm), Pseudomonas sp. (27 mm), Staphylococcus aureus (27 mm), E. coli (26 mm), Streptococcus viridans (23.3 mm) and Clostridium septicum (21.0mm) at 100 mg/mL concentrations of different cultivars. Conclusion: This study confirms that Vitis vinifera methanolic leaf extracts have inhibitory activity against all the tested microorganisms and is worthy of further investigation.



Effect of camel milk lactoferrin against carbon tetrachloride induced hepatic toxicity in Sprague Dawley rats
Nasreen Asghar, Muhammad Nasir, Sana-Ullah Iqbal, Toheed Ahmad, Robina Majeed, pages 165-175
Read Abstract
Background:Chronic Hepatitis and mortality due to liver cirrhosis is common in Pakistan. Camel milk Lactoferrin has antiviral, anti-inflammatory properties. Nutraceutical foods like camel milk have many uses. Camel milk lactoferrin might be used for the cure of hepatic fibrosis induced by CCI4 in Sprague Dawley rats. Methods: Seventy-five (75) male Sprague–Dawley rats were purchased from National Institute of Health Islamabad kept in animal house of UVAS Lahore and randomly divided into 5 groups under completely randomize design. In Each group carbon tetrachloride (CC14) was subcutaneously injected with a mixture of 40% CCI4 (a mixture of pure CC14 and sterile olive oil) at 200 uL/100g body weight as single dose, 48 hrs before the starting of treatment or 0 day. After 48 hrs. Rats were considered hepatic injured except the (+ve) control group. Among all groups, four groups –ve control, 30mg/kg/b.wt, 60mg/kg/b.wt and 90mg/kg/b.wt were supplied with standard diet plus Lactoferrin (different concentrations and doses) orally, while control group were provided only standard diet throughout the efficacy study (30 days). Results: The study was conducted in two phases, first one was on the isolation and purification of camel milk lactoferrin and the second one was based on efficacy study of lactoferrin in Sprague Dawley rats against the hepatic toxicity induced by carbon tetrachloride Conclusion: The present study on CCl4 induced hepatotoxicity in Sprague Dawley rats clarifies that camel milk lactoferrin induced significant improvement in serum level of ALP, AST, AST, bilirubin, serum urea and serum Creatinine within the duration of 4 weeks treatment.



Detection of Human Salivary Amylase Level Deposited on Fruits with First Bite Mark
Umar Draz, Saadat Ali, Sehrish Firyal, Ahmad Ali, Ali Haider Saleem, Mohammad Ashraf Tahir, pages 152-158
Read Abstract
Background: Human body fluids are vital for criminological examinations. The recovery, conservation, and investigation of body fluids or its stains are critical in measurable forensic cases. The amylase testing is being utilized as a possible test to locate the crime scene saliva stains for more than three decades. This investigation was intended to decide the human salivary amylase accumulated on fruit after the first bite where the level of salivary amylase was concluded by Radial Gel Diffusion method. Methods: Three sorts of organic fruits (apple, peach, and apricot) and 20 people (10 male and 10 female) were chosen for this investigation. The specimens were assembled from bite mark area following time intervals 0 hours, 12 hours, 24 hours, 36 hours and 48 hours. Results: Experimental outcomes demonstrated that the diameter of amylase activity in male specimens was more noteworthy than female. Apples, as well as apricot pit samples, indicated amylase activity till 48 hours; however, the specimens collected from peach demonstrated amylase activity until 12 hours, after first bite mark. Conclusion: This study demonstrated that salivary amylase testing might be valuable for DNA evidence, where DNA investigations for every case might be restricted because of cost issues.



An assessment of social, economic and managemental factors affecting average production per week in commercial layers at district Toba Tek Singh, Punjab, Pakistan
Muhammad Ashraf, Muhammad Khalid Bashir, Sayeda Mariam, Madiha Tabassum, Muhammad Qamar Bilal, Muhammad Iqbal Mustafa, Shahid ur Rehman, pages 182-186
Read Abstract
Background: The research was conducted to identify social, economic and management factors that may affect the total egg production in terms of total number of weak for average peak production in layers at district Toba Tek Singh. Methods: Sampling method was based on primary data collected through survey. Twenty-five layer farms were selected randomly with three different types of production systems (viz., open sided litter floor system, Semi controlled cage system and semi controlled litter floor system). Farmers were visited personally and interviewed. The data were analyzed by MINITAB-17 using multiple regression analysis. Results: Result showed that 12% of the respondents are under the age of 25 years, 80% fall between the age of 25-50 years, 8% fall more than the age of 50 and above. Study showed that more than 50% farmers are having qualification above secondary level i.e., 48 % are within the range of higher secondary and graduation, while 4% are specialized in animal production and health (veterinarian). Majority of the farmers had a farm size less than a capacity of 25000 birds, while only 16% farmers had a farm size with a capacity of above 50000 birds. The House type, Birds at first lay, Age at data recording, Age at first egg and Feed cost were significant (P≤0.01). However, demographic variables were non-significant at all levels of probability. The results showed that the economic and management factors of farmers have significant effect on average peak production of layers kept by them.Conclusion: The importance of the economic and management factors, concluded significant influence made by the social, economic and management factors on poultry egg production.


Short Communication
---
First Step with R for Life Sciences: Learning Basics of this Tool for NGS Data Analysis
Rashid Saif, Kinza Qazi, Saeeda Zia, Tania Mahmood, Aniqa Ejaz, Talha Tamseel, Suliman Mohammad Alghanem, Adnan Khaliq, pages 187-194
Read Abstract
Background: R is one of the renowned programming language which is an open source software developed by the scientific community to compute, analyze and visualize big data of any field including biomedical research for bioinformatics applications. Methods: Here, we outlined R allied packages and affiliated bioinformatics infrastructures e.g. Bioconductor and CRAN. Moreover, basic concepts of factor, vector, data matrix and whole transcriptome RNA-Seq data was analyzed and discussed. Particularly, differential expression workflow on simulated prostate cancer RNA-Seq data was performed through experimental design, data normalization, hypothesis testing and downstream investigations using EdgeR package. A few genes with ectopic expression were retrieved and knowhow to gene enrichment pathway analysis is highlighted using available online tools. Results: Data matrix of (4×3) was constructed, and a complex data matrix of Golub et al., was analyzed through χ2 statistics by generating a frequency table of 15 true positive, 4 false positive, 15 true negative and 4 false negative on gene expression cut-off values, and a test statistics value of 10.52 with 1 df and p= 0.001 was obtained, which reject the null hypothesis and supported the alternative hypothesis of "predicted state of a person by gene expression cut-off values is dependent on the disease state of patient" in our data. Similarly, sequence data of human Zyxingene was selected and a null hypothesis of equal frequencies was rejected. Conclusion: Machine-learning approaches using R statistical package is a supportive tool which can provide systematic prediction of putative causes, present state, future consequences and possible remedies of any problem of modern biology.